We purchased a Namecheap hosting plan in November of 2017, setup a test website, and have monitored performance ever since. Here's an in-depth review on how they compare to everyone else out there.
What is Namecheap Hosting?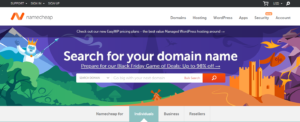 Namecheap was founded all the way back in 2000 by Richard Kirkendall.
Over the past 18 years, they've reportedlyracked up three million customers.
Domain names are the name of Namecheap's game (sorry, couldn't resist), with over seven million under their control.
But here's the thing:
We've seen this story before; Hosting A is good at X, so they leverage their brand name and deep pockets to muscle into new service Y. It doesn't necessarily mean that they're any good at it.
So what's the deal with Namecheap?
Have they been able to replicate their domain name success in a new arena? Or are they simply trading on their name alone? (Pun definitely intended.)
In November 2017, we decided to find out. We signed up for their hosting service, purchased the least expensive plan, and even setup a test website you can view here.
Then, we used Pingdom to track detailed performance stats like uptime and speed. You can view those here.
We're going to get into the nitty-gritty, taking a deep dive into their plan features.
But first, let's focus on a few of Namecheap's best attributes:
Pros of Namecheap Hosting
Namecheap starts strong with a free domain name, migrations, and extra plan features like backups.
Here are the full details:
1. FREE Domain and Migration
Namecheap excels at domain names. So it only makes sense that they'll happily throw one in if you sign up for their hosting plan.
If you already have a website setup somewhere else, they'll also help you migrate the service for free.
Kinda, sorta. We'll come back to this in the Cons section below.
2. 30-day Money-Back Guarantee
Namecheap does offer a rock-solid money-back guarantee. You've got a full month to see if their service is right for you. Otherwise, it's not too late to back out and try something else.
3. Fully-Loaded Value Plan
We've reviewed over 30 web hosts to date.
And for each one, we typically sign up for the most basic plan to set up our test website.
The reason is twofold:
We want to be able to base these reviews on real data and performance figures.
Most 'base-level' plans at each hosting company are pretty similar.
In other words – this allows us to compare apples to apples (for the most part). Each shared offer is fairly similar, with the same features offered on each.
Namecheap surprised us, though.
First, they offered unmetered bandwidth on their cheapest plan. They also give you access to the standard features like cPanel access and apps like WordPress.
Their cheapest plan also includes a free SSL certificate for the first year. (Read: After that year's up, you'll have to pay.)
You also get twice-a-week backups, just in case things go haywire while updating your new site.
The best part about their cheapest offer is that you get 50 MySQL databases (which is way more than what most companies offer on a similar tier).
Plus, you can set up three websites on this plan. Most base-level hosting plans only allow you to host one single website. This is a great value if you have several sites, like a business and a personal one.
They also give you up to 50 email addresses right out of the gate, too.
This can add up to huge cost savings over time.
4. Third-Party Reviews Are Excellent
We always like to get a pulse from existing customers to make sure each review isn't just based on our own isolated experience.
I'll admit:
We were pleasantly surprised at some of the customer reviews online.
For instance, they have a solid 4.6-star rating on Shopper Reviewed. Supposedly that's based on almost a million reviews.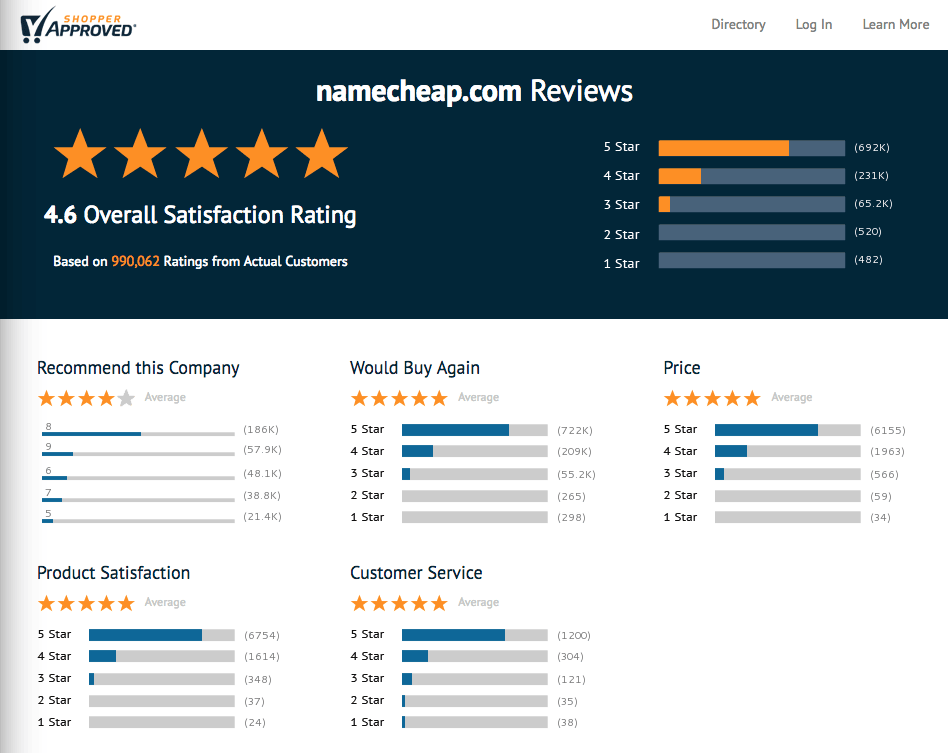 This initial view got us excited.
We already liked seeing the 'extra' plan features they threw in for free (that most other companies would charge you for).
So we were excited to get the test site up and running. And see the performance stats roll in.
Unfortunately, the results that did flow in weren't inspiring.
Here's why:
Cons of Namecheap Hosting
There are three major categories we look at when considering a new web host:
Uptime: Can this host keep my site live the vast majority of the time?
Speed: Can this host deliver a good experience for visitors so they'll want to come back?
Support: And can this host help me when things spin out of control?
Unfortunately, Namecheap dropped the ball in all three areas.
Take a look for yourself.
1. Poor Uptime – 99.88%
Namecheap delivered a stellar 100% uptime the first month we signed up. That gave us plenty of excitement to see what was to come.
But things only got worse from then on.
The next few months hovered well below the industry average, eventually producing an uptime of only 99.876%. It's not bad on the surface. Nevertheless, keep in mind that this equates to over an hour of downtime each month.
What if that downtime were to happen during a busy sales season? You're potentially looking at tons of lost revenue.
Here is the month-by-month comparison:
Last 10-month average uptime:
December 2017 average uptime: 99.83%
January 2018 average uptime: 99.85%
February 2018 average uptime: 99.78%
March 2018 average uptime: 99.94%
April 2018 average uptime: 99.94%
May 2018 average uptime: 99.94%
June 2018 average uptime: 99.89%
July 2018 average uptime: 99.84%
August 2018 average uptime: 99.80%
September 2018 average uptime: 99.95%

Click here to find full uptime and load time statistics for the last 10 months
2. Slow Load Time
After uptime, the second most important criteria is speed. The reason it's so important is that speed has been directly correlated with visitor happiness.
Google recently found that the probability of someone bouncing increases over 100%if your pages take up to six seconds to load.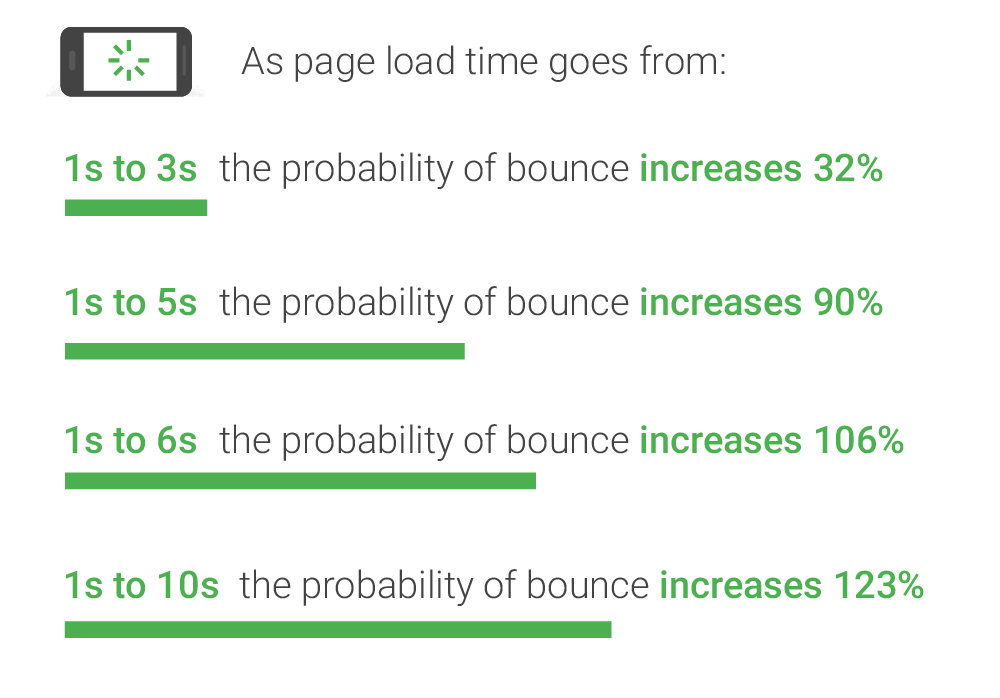 So yes, you need your site to stay alive. If that site is slow, then it's almost as bad. Your site might as well be down because people will be leaving in droves.
Namecheap has only been able to post an average page speed of 942ms over the past ten months. This number is more than twice as slow as our other favorite hosts like A2 Hosting and HostGator Cloud.
If they had one bad month that dragged the average down, we could overlook it. That's not the case here.
Namecheap started out slow when we signed up and have only recently gotten better. Past four months have been promising, but it is still slower than the top class.
Here are the details:
Last 10-month average speed:
December 2017 average speed: 905ms
January 2018 average speed: 1,127ms
February 2018 average speed: 1,297ms
March 2018 average speed: 1,299ms
April 2018 average speed: 1,303ms
May 2018 average speed: 1,117ms
June 2018 average speed: 590ms
July 2018 average speed: 559ms
August 2018 average speed: 662ms
September 2018 average speed: 559ms
3. Lackluster Customer Support
Namecheap has a pretty good Frequently Asked Questions (FAQ) platform. It contains detailed answers that should help solve most common problems you run into.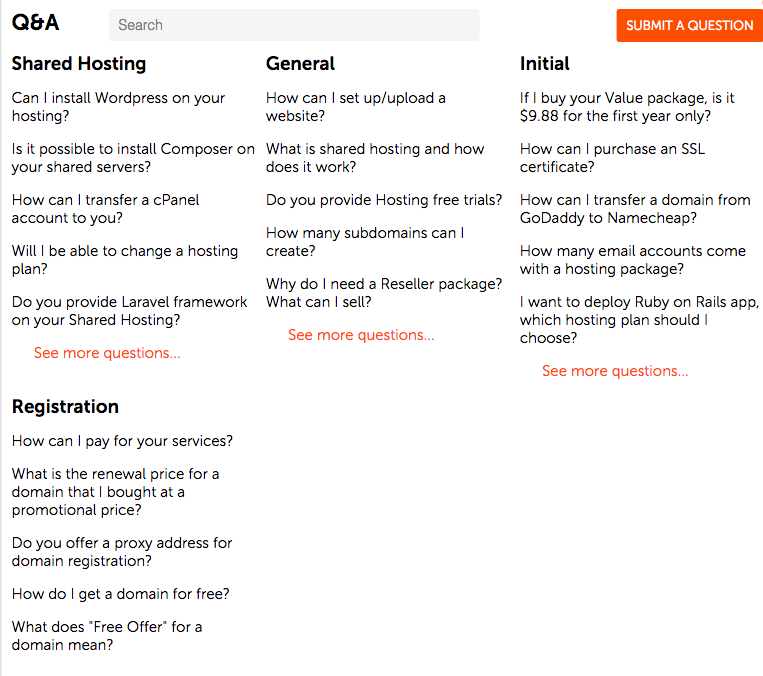 We also like to try out live chats to get a feel for their service.
Things started well enough, with a quick connection from a friendly support rep.
When she was unable to help me, she even transferred me to the 'Concierge' department.
In overall, I love the idea of a 'Concierge' department at a company. You know – like a higher manager at a hotel who's able to personally help you with almost any request.
But that's not exactly what happened during this conversation.
Instead, the second 'Concierge' rep basically copy-pasted a knowledge base article for me: https://www.namecheap.com/support/knowledgebase/article.aspx/876/83/how-to-transfer-a-domain-from-godaddy
This was annoying for a few reasons:
For starters, I wasn't asking for an explanation of the process. I was asking if they'd do the service for me. That's a pretty common perk that most web hosts will be happy to assist you with.
Secondly, how is this remotely close to a "Concierge Service"? They're just throwing me a link and telling me to figure it out for myself.
And thirdly – why did it take multiple reps and 10 minutes of my life for this solution?
The entire experience left me underwhelmed, to be honest.
This exchange didn't leave me with a lot of confidence – if my site went down and I did have to rely on their customer support team to bail me out, where should I turn to?
Namecheap Pricing, Hosting Plans & Quick Facts
Here's a quick overview of the hosting plans offered by Namecheap: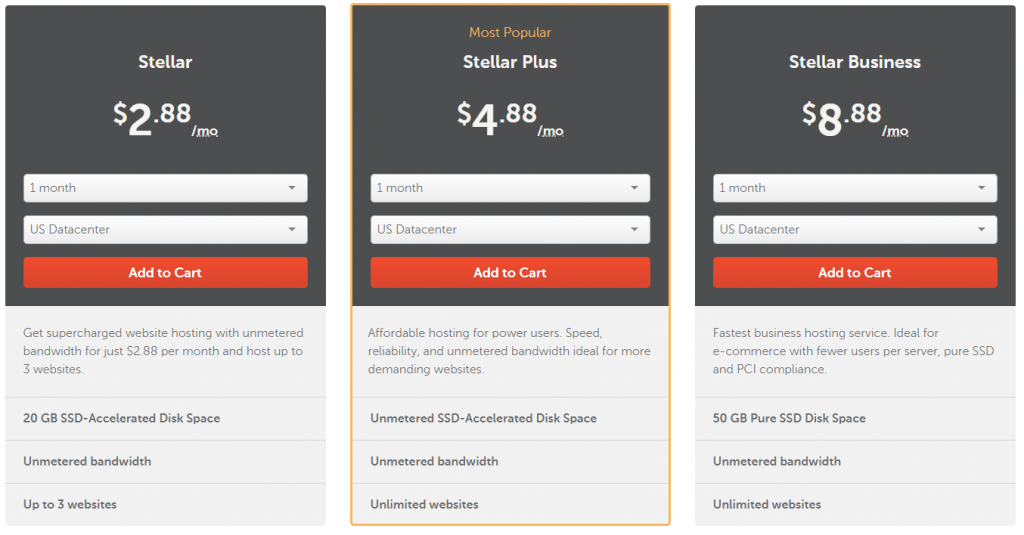 Stellar: The initial plan gives you unmetered bandwidth for up to three websites for $2.88/month in the first year.
Stellar Plus: The second plan increases disk space to Unmetered, for $4.88/month in the first year.
Business SSD: Namecheap's biggest plan has SSD disk space of 50GB, which is good enough for 10 websites and all that comes with only $8.88/month.
Free domain?: Yes, the first year is free.
Ease of Signup: Easy signup process.
Payment Methods: Credit cards, PayPal, Dwolla, and Bitcoin.
Hidden Fees and Clauses: There are two important disclaimers to keep in mind:

"This offer is available for new hosting purchases only. The promotional price is valid for the first 12 months on annual payments, after which the hosting service will renew at the regular rate as indicated in the package specs. Upgrades/downgrades will be performed at full renewal price."
"Unmetered disk space is offered with our Ultimate package. This disk space is solely intended for your website and not for other storage purposes. This space must be used in accordance with our AUP, particularly paragraph 10.2."

Upsells: A few upsells along the way.
Account Activation: Fast account activation.
Control Panel and Dashboard Experience: cPanel.
Installation of Apps and CMSs (WordPress, Joomla, etc.): 1-click installation tool to easily install popular apps and CMSs.
Do We Recommend Namecheap?
Nope.
Look:
They started out pretty well. Existing customers seem to like them, and the fact that their cheapest plan compares favorably to most other company's upper-tier ones looked promising.
Despite that, the fact that your renewal rates will rise over 300% is tough to stomach. Especially, when you consider the poor uptime, consistently slow speeds, and borderline lazy customer support.
There are so many better options out there which deliver better service for the same price (or less after the first year).
P.S. Take a look at our best performing hosts here to find a Namecheap alternative.
Do you have any positive or negative experience with Namecheap's hosting? If so, please leave us an honest, transparent review!